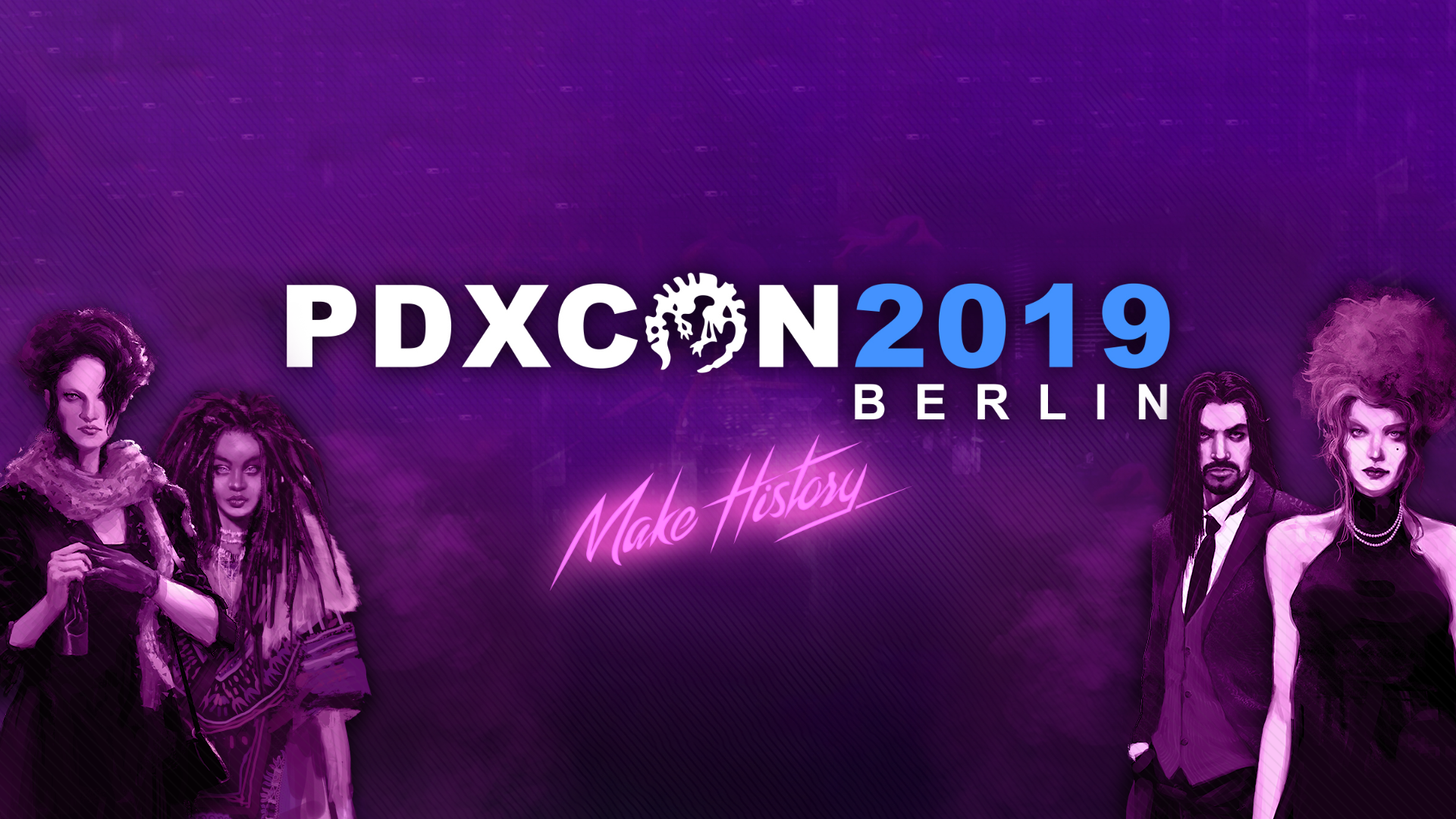 Being a (pure evil) business developer: preparing for the show of my life! 
Hello dear readers, how are you today? 😊
It's been a while since you had the chance to go through some personal stuff from your favorite (pure evil) business developer, but do not worry, as I have returned to tell you more about getting ready for the show of my life – the one and only PDXCON 2019 in Berlin!
You may not know this, but I'm a huge Paradox fan. I spent thousands of hours playing all parts of my favorite games of all times, such as Crusader Kings, Europa Universalis, Stellaris, Hearts of Iron, Imperator: Rome etc. (with the exception of Victoria II, I'm sorry, I just don't get it…) I've always been active on official forums and every time I go to any industry event and Paradox is there I simply want to live in their booth and secretly hope that Johan Andersson (EVP Creative Director at Paradox Development Studio) would actually adopt me.
Now, after this short introduction, you know that I'm totally in love with Paradox, hence the chance to work with them over fully licensed Vampire: The Masquerade game was already a dream-come-true to me. STILL, even in my dreams I'd never imagine that not only I'll have the pleasure to attend PDXCON, the most attractive event I can think of, but also that I'll be there as a developer, able to talk about our game with other Paradox fans coming to Berlin!
What's even more important, we'll be the only World of Darkness digital game developer there, who will have the pleasure to present the playable demo of our upcoming title to attendees! Yet, even though it all sounds great and I'm counting hours till the event starts, you have to believe me that preparing for such an event is not an easy job. 
     

Basic stuff – logistics and accomodation. How many people are coming, how do we get to Berlin from Krakow, where do we sleep, is there a parking spot nearby etc. Sounds easy peasy, but it is pain in the ass…

     

Booth organization – all assets need to be created, polished, approved and delivered on time. The exact location of the booth needs to be known and properly arranged. We need to answer some bloody important questions, such as: should we prepare only the PC playable version or should we allow players to try the Switch version too? Are we prepared for all the questions they may ask? What should we say if they ask us about something we're not allowed to talk yet? Are there going to be journalists as well? If the answer is yes, should we already schedule meetings and interviews with them? Are we allowed to assist them while they play?

     

Technical stuff – what are the deadlines for the playable demo? Is it the same for the PC version and Switch version? Who's responsible for the hardware – organizers or us? What happens if we don't manage to get rid of all the bugs? How and when do we report QA sessions performed on different PC configurations and what's the deadline to close the desired configuration of the PC units, on which players will play? What about the monitors for Switch? Are we going to allow players to play the Switch version in all modes, or just the handheld mode?

     

Financial stuff – how much everything costs exactly? How do we appraise and with whom? What are the extra costs we didn't think of and how impactful will they be? If you're an indie studio from Poland, you have to go through all this very carefully.

     

Team organization – Who and when takes care of players? Who and when is sent to talk with journalists? Is everyone healthy and doesn't have specific food alergies o rany other health issues? How do we handle meals, cigarette breaks and even bathroom? Who is responsible for organizing swag – t-shirts, flyers, posters etc. How much of these we should take with us and how expensive all of these are? It's obvious that many things in this area is improvised, but it's good to feel prepared, at least.

     

PR and marketing team organization – what are our challenges in this area? How do we smoothly communicate with members of the team, who stay in Krakow? Do we have a plan to show the world our participation in PDXCON the best way we can? What's the plan for social media, press releases, written interviews etc. Do we have all the communication channels covered (Steam, reddit, imgur, etc.) And, most important – is everything synchronized with other team's plans and accepted by Paradox?
All those things need to be thought through and executed when the right time comes. Players usually see only the tip of an iceberg, hence I hope that this particular blog post will inspire many readers to take a look at an event participation from a little different perspective.
That's all for now, my dear readers. Next time I'll share with you some impressions after the show I always wanted to attend. Working in gamedev truly makes dream come true!
Best regards,
Jacek  
DO NOT MISS NEWS ABOUT THE GAME
SUBSCRIBE
Error: Contact form not found.