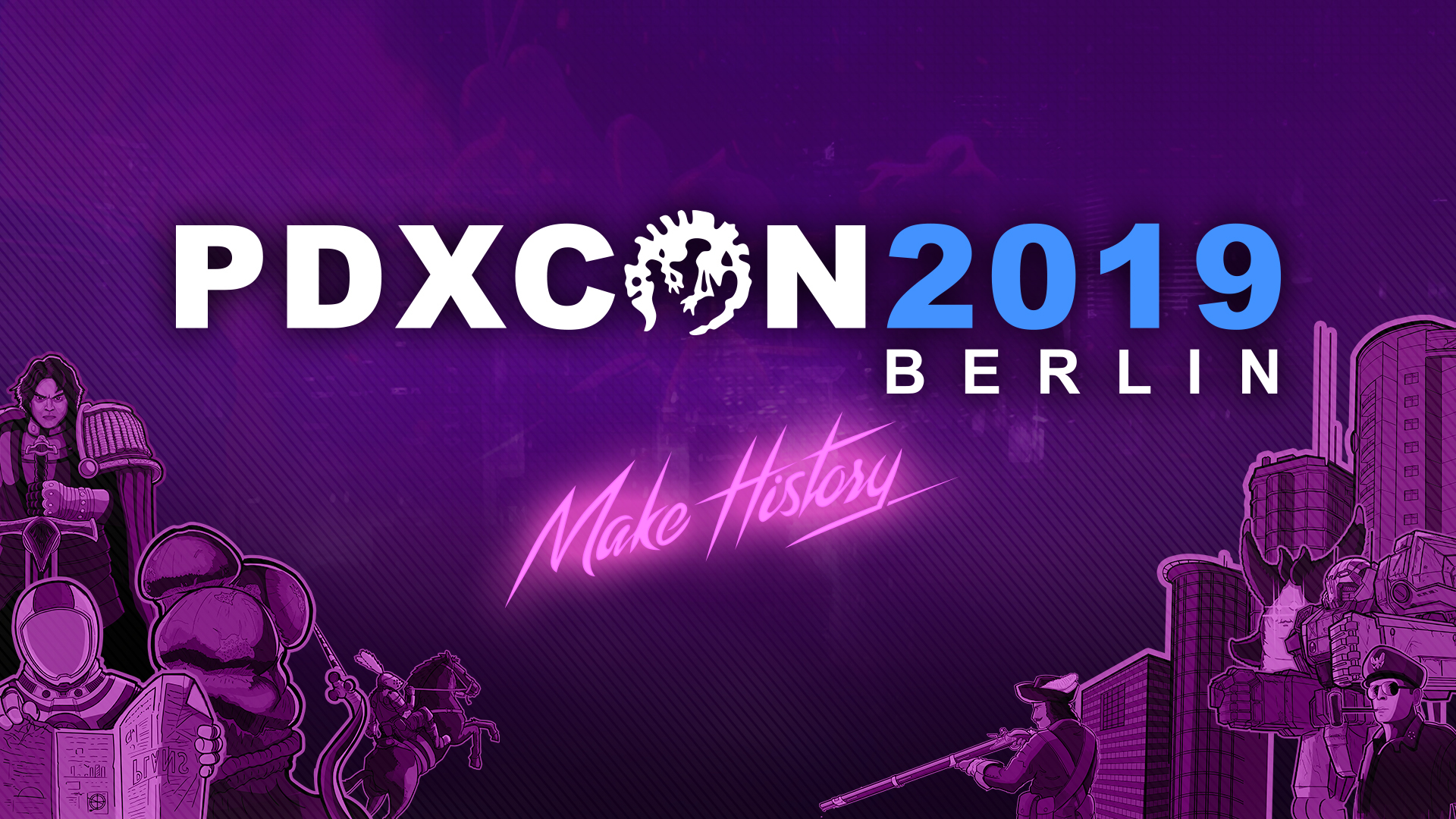 Being a (pure evil) business developer: few thoughts after PDXCon 2019 in Berlin
Hello dear readers, how are you?
Autumn is Poland still enchants me with its beauty and warmth, and I'm still amazed by PDXCon 2019 I attended with my friends from Draw Distance. The fact that we had the opportunity to present the playable version of Vampire: The Masquerade – Coteries of New York (launching on December 4th on PC and on Switch, and, hopefully on other consoles as wee, in Q1 2020!) to journalists and gamers (for the very first time!) was a bit terrifying, but also exciting and if you read my last post about organizing everything before PDXCon, you know how important this show is for me personally (emotions +500).
Now when we're back and I made my dream of attending PDXCon at least once in my life true, I feel calm and satisfied and ready to share with you some thoughts (both personal and professional) regarding the event.
      

It's good to show your game to people outside of your organization. It seems obvious, but for many reasons indie developers can't / don't know how participate in b2c events. Usually it happens simply because of lack of funds. Due to the fact it's a one-time spend people tend to be scared of such an expense. I perfectly understand the reasons behind not going, but I appeal to all indie devs: plan such costs earlier, divide them into easier-to-swallow tranches and do it. I think that we 've learned so much about our game, only because it was played by people, who never tried it before and had different approaches and expectations – from ''I've never heard about it before" to ''I came here to play Coteries of New York in first place." It's worth spending extra, to spend less on patches in the future. The fact that their feedback was overwhelmingly positive only makes of all it sweeter!

     

It's important to meet your community face to face – PDXCon 2019 created safe environment for fans coming from all corners of the world, who had the chance to meet their favorite developers and experience titles they love or passionately wait for. Coteries of New York was no exception. We met several people, who expressed how impatiently they are waiting for the launch of our game. The chance to speak directly with your fans and the fans of Vampire: The Masquerade in general, the opportunity to share experiences from the tabletop past and understanding their unique visions of a spot-on Coteries of New York builds this unique bond between the dev and the community, and that's probably the most important thing for every indie developer.

     

It's great to be part of Paradox and White Wolf Publishing family – even though Paradox is not the publisher of Coteries of New York and Draw Distance is not owned by the Swedes, we felt appreciated and exceptional, being able to share our work next to (AND TO) other World of Darkness developers, such as Hardsuit Labs, Cyanide, BigBad Wolf, but also John and Brenda Romero and very skilled peeps representing different teams standing behind several Paradox Development games. A truly unique experience!

     

It's so valuable to have a chance to learn Paradox's organizational structure a little. Paradox employs 400+ people, representing all the ethnic groups, cultural heritages, philosophies etc. The sole ability to commune with such diverse team enriches our ways of thinking about building the team, allows us to take a new, fresh perspective on the strategy of our company's development. A true example of real praise of individuality and equality within the organization.

     

It was just great to be there! As a dedicated fan of Paradox's games (both developed and published by the company from Stockholm), it was just pure pleasure for me to be in the very center of Paradox's universe for couple of days. To experience the announcement of Crusader Kings III first-hand, to talk to my idols, to learn new features and DLCs the majority of players have not yet heard, to shake hands with World of Darkness legends etc. Personally for me it really was an event of my life and I can only hope that I will have the pleasure to attend next time as well!
That's all from me for today. Next time I'll prepare more business-oriented post after the release of our upcoming game Ritual: Crown of Horns, with Feardemic Games being the publisher of records. The game will launch on PS and Switch on November 7th, just after my return from Game Connection Europe in Paris!
I've heard it's going to get much colder in the upcoming days, hence enjoy the sunny weather until it lasts!
Best regards,
Jacek 
DO NOT MISS NEWS ABOUT THE GAME
SUBSCRIBE
Error: Contact form not found.